D A I S Y D E B O L T . C O M
ON THE ROAD an experimental theatre piece
using large-scale shadows, dance, and original music
featuring Canadian Recording Artist
DAISY DeBOLT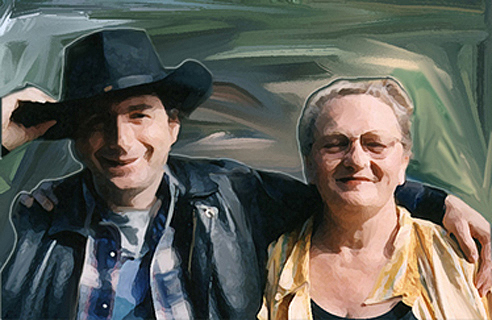 with Perry Alley Theatre
ON THE ROAD was the most recent (and most ambitious) theatre workshop to be held at the home/production-studio of Perry Alley Theater. Though this was the first workshop to end with public performances, the basic goals were the same as in past workshops: bring a group of talented people together, give them a challenge and a framework within which to address that challenge. The results have always been enlightening, though the most important aspect of these all too brief crucibles has been the process of collaborative creation itself. Three of the elements of this process which Bonnie and I have found most valuable for our own work are: constraints, "habit busting" and the strength of "group."
---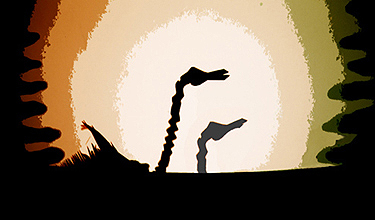 [a page from our journal]
29 August, 1999. At about 9:30am, Teri-Jean and Monica pulled out of the driveway in their monstrous, school-bus-yellow Suburban; we waved good-bye to our last guests from a truly memorable week.
Last night was the second performance of "On the Road (with Daisy DeBolt)". The show was designed, built and performed during a six day, intensely focused production period. The collaborators, aside from Bonnie and myself, were Monica Leo and Teri-Jean Breitbach (Owl Glass Puppet Center, West Liberty, Iowa), Lynnie Raybuck (Theater faculty, George Mason U., Fairfax, VA), Caleb Fullam (Other Glove Theatre, Boston, MA), Tiina Kiik (Musician, "Deconstructing Tiina," Toronto, Ontario), and our composer (as well as the heart and soul of the project) Daisy DeBolt (Toronto, Ontario). We were joined later in the week by videographer Peter Braddock ("Video Verité," Kittery, ME), and Judith Periale (Lesley College, Cambridge, MA).
Artists began arriving on Saturday (August 21), and by the following evening we were all gathered. Work began on Monday with design, and continued on Tuesday and Wednesday with construction and dramaturgy, with rehearsals on Thursday and Friday. Performances were open to the public on Friday at the Strafford Grange Hall (which had been our rehearsal hall for the week), and on Saturday in Arlington, MA, at the Arlington Center for the Arts. This performance was hosted by the Underground Railway Theater, and sponsored by the Boston Area Guild of Puppetry.
---
---
Daisy DeBolt The entire Project was built around her music- and her personality. Daisy is more than just a musician- she has a voice more powerful than a speeding locomotive. She studied guitar with the legendary Lenny Breau, and is herself legendary as half of the early 70s folk phenom Fraser and DeBolt. She is a fine poet and has collaborated with numerous other artists, including Michael Ondaatje (author of The English Patient). Her music is impossible to pigeonhole and moves from blues to raggae to polka with sprinklings of Frank Zappa and Igor Stravinsky. She is also an organic gardener, mother,and gourmet cook.
The production included a number experimental aspects, including the mixing of direct-screen shadow puppetry with projected video images shot during the performance and displayed in real time. Multiple screens and light sources were also used.
On the Road is an international collaboration with Canadian composer & recording artist Daisy DeBolt, theatre artists Andrew and Bonnie Periale, and a company of performers from both countries. It uses a multi-media/concert format to dramatize portions of DeBoltŐs life: her experiences in the Canadian Rockies, playing music to wild trumpeter swans near Toronto and other highlights of her life "on the road."
This project was funded, in part, by the NH State Council on the Arts, the Iowa Arts Council, the Ontario Arts Council, and the R.A. Meier Foundation.
---
---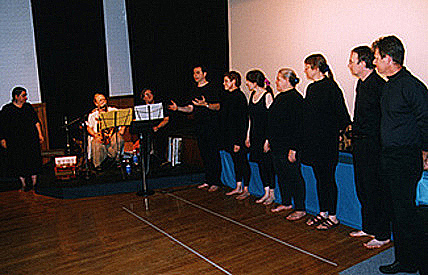 .
.
-Get in touch with us for details-
---
---
.
photos: J Periale, J. Nolan; text copyright 2000, A & B Periale